"Dear children! My Immaculate Heart bleeds as I look at you in sin and sinful habits. I am calling you: return to God and to prayer that it may be good for you on earth. God is calling you through me for your hearts to be hope and joy for all those who are far away. May my call be for you a balm for the soul and heart so that you may glorify God, the Creator, who loves you and is calling you to eternity. Little children, life is short; you, make good use of this time and do what is good. Thank you for having responded to my call."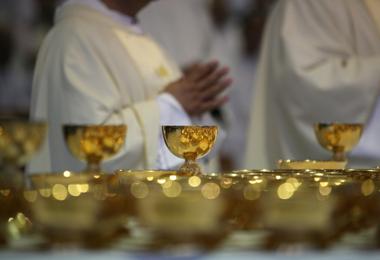 Number of Holy Communions: 111 900

Number of priests that concelebrated at Holy Masses: 2431 (81 per day)
Reminder

The 4th INTERNATIONAL SPIRITUAL SEMINAR FOR DOCTORS AND NURSES
---

The 5th International Pilgrimage for Persons with Disability
---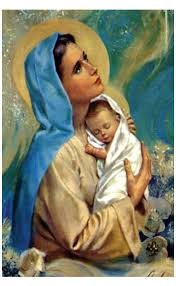 The INTERNATIONAL SEMINAR FOR LIFE (PRO LIFE)
will be held in Medjugorje on June 16 to 19, 2016
---

---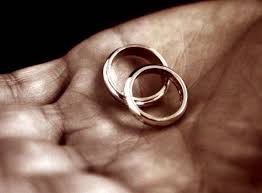 17th INTERNATIONAL SEMINAR FOR MARRIED COUPLES
---

Seminars are conducted by franciscans of Međugorje. Here are the dates according to language groups, as well as contact persons: Contact2016
---
Audio-video and photos live from the church in Medjugorje

Beginning with the feast of St. Francis, we began broadcasting live audio-video programs and photos from the church in Medjugorje. You can follow them at the link: http://medjugorje.hr/en/multimedia/ - croatia language from Church - Evening Prayer Programme - Adobe Flash media live player
http://www.medjugorje.ie/live_streaming_video.html - english language from Church - Evening Prayer Programme- Adobe Flash media live player
Live streaming Medjugorje : smoothstreamingplayer.html - Smooth streaming player
Links both live audio and video in various languages:
www.medjugorje.de (Deutsch)
www.kathtube.com (Deutsch)
www.kathtube.com/player.php?id=32333 (Deutsch)
www.kit-tv.at (Deutsch)
www.qpmm.org http://62.75.216.148 - USA KOREA
---
Spiritual movement of the Queen of Peace in the world
The movement, born after the apparitions of the Queen of Peace in Medjugorje, includes pilgrimages to Medjugorje, the setting up of Peace Centres, prayer and charity groups all around the world, as well as pastoral, publishing, humanitarian and other kinds of activities...
This questionnaire will give us the opportunity to have a better grasp of the worldwide dimension of the movement in the service of the Universal Church. It will help us to get to know each other better, to have better communication with various groups worldwide, as well as to grow better in our prayer and service.
We kindly ask all the leaders of Peace Centres, prayer and charity groups, as well as organisers of pilgrimages to fill in the questionnaire and to send it to Medjugorje to fax no. + 387.36.651.444, or to write to centar@medjugorje.hr in order to receive the questionnaire by email.

Questionnaire:
ČESKY / DEUTSCH / ENGLISH / ESPAÑOL / FRANCAIS / HRVATSKI / ITALIANO / MAGYAR / NEDERLANDS-VLAAMS / POLSKI / PORTUGUÊS / ROMANA / RUSSIAN / SLOVENSKY
(Adobe Reader free download: www.adobe.com )
GENERAL RECOMMENDATIONS FOR THE PRIESTS

We ask you to keep integrally the rules of the Church envisaged by the Code of the Canon La~ the general liturgical rules and the directives and the rules of the proper authorities of the Church in connection with the life and the service of the priest.
To take part in the liturgical life of the parish, according to the rules of the Church, it is necessary to have arecommendation letter of your bishop or your superior (celebret), not older than one year. (Cf" Code of the canon Law, Can. 903)
---
Medjugorje Film - Our Lady Queen Of Peace

https://www.youtube.com/watch?v=13XHKaF0T3g
---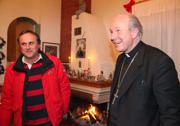 Mother of God – the best pastoral theologian
Max Domej from Gebetsktion Wien spoke to Cardinal Christoph Schonborn, Archbishop of Vienna, during his visit to Međugorje.
Both in Lourdes and Fatima the events first ceased and than Church had its decision about that. Its final decision. Sooner or later that will take place here as well, but in this case we let Mother of God with freedom of choice...I think that Medjugorje can continue well on their journey, with full trust that Church, Mother and Teacher, in this case, is going to continue to monitor their journey.

Kardinal dr. Christoph Schonborn - Medjugorje, 31. December 2009
---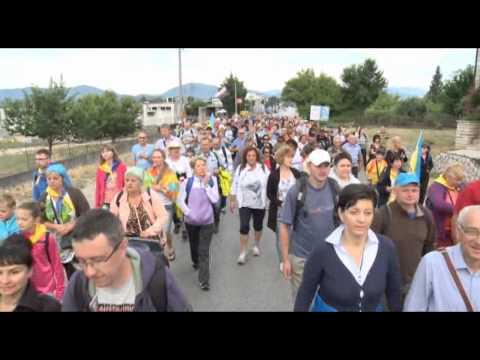 ---
Q U E S T I O N N A I R E
Respected brothers, the purpose and aim of this questionnaire is to make a list of priests who received their vocation through Medjugorje. So, we kindly ask you to fill out this form with following information: (Questionnaire)